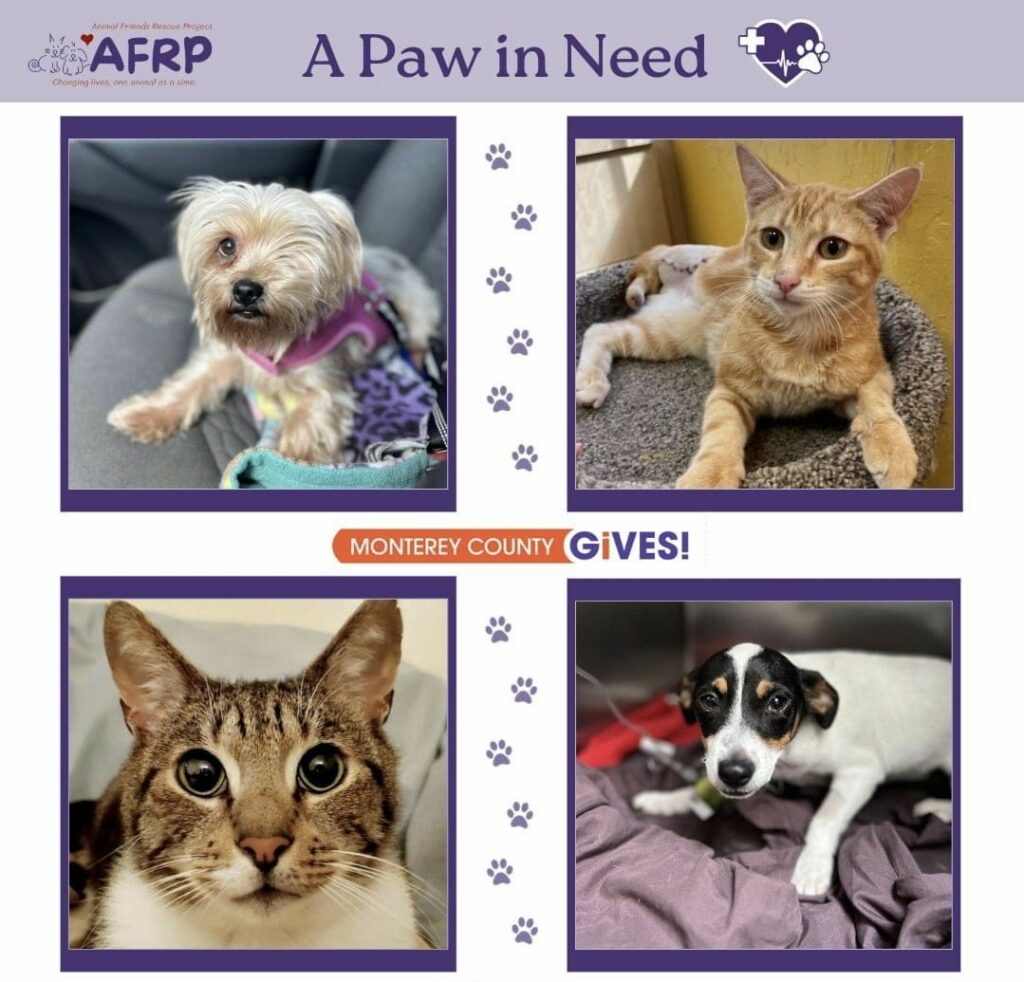 Mission
AFRP is dedicated to finding good, permanent homes for stray, abandoned, and abused companion animals and to ending the pet overpopulation crisis through effective spay/neuter programs.
The Big Idea
AFRP's primary focus is on helping local shelter animals that are at risk of being euthanized because they are sick or injured, are considered too old or too young to be adoptable, are shy or traumatized animals that need extra time to gain confidence, or need a place to go because the shelters are full.
Over the last few years, we have seen a steady rise in the number of urgent medical cases including dogs and puppies battling parvovirus, cats and kittens combating panleukopenia, and those in need of orthopedic procedures
Most recently, we've seen an increase in the number of Parvovirus-positive dogs coming into our local shelter or being surrendered by owners who cannot afford the costly treatment for parvo. Parvo treatment averages $3,000 per dog. Already this year, we have treated 30 parvo-positive dogs including littermates Maeve and Bellatrix, who at just 6 months old found themselves abandoned, scared, and very ill. They were promptly transferred to one of our veterinary partners for life-saving treatment and both survived!
In addition to the parvo cases, we have helped numerous animals through costly orthopedic procedures. Theodore is one of our most recent ortho cases. After being hit by a car and left on the side of the ride, Theodore was found and taken to the shelter. Once transferred to our care, it was found he had a fractured femur that needed a corrective pin placed so it could heal properly. We're happy to report Teddy is thriving in foster care and on the road to recovery!

These are just a few of the critical medical animals that AFRP says yes to. The funds we raise through Monterey County Gives will help offset the costs of providing these animals the medical care they need and deserve. Please say yes to AFRP, so we can continue to say yes to animals like Maeve, Bellatrix, and Theodore.
Our two beautiful pups, Rusty and Pepper, came to us from knowledgeable, loving, and conscientious AFRP foster parents. Their foster families were able to assess our fitness as adopters and give us valuable information about the dogs. This process ensured a great match! Beyond what AFRP means to individual families like mine, they make a real difference to the wider community. I am impressed by the impact AFRP has and the way they achieve their mission. AFRP has cultivated, sustained, and utilized a large group of dedicated volunteers for many years. This enables the funds they raise to go primarily to the direct care for the animals. We are very grateful for AFRP and proud to be donors to the organization.

- Tobi Marcus