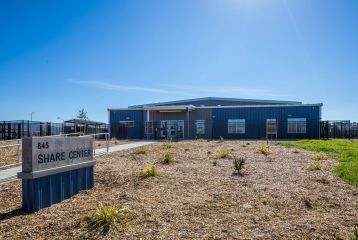 Mission
Our mission is to uplift under-served individuals and their families by doing whatever it takes.
The Big Idea
BACS and SHARE Center know and believe that the best way to help people experiencing homelessness is reconnecting them to their community. Data shows that 64% of people experiencing homelessness in Monterey County have lived here for over 10+ years, but lost their connection to a community network of support. A myriad of factors contributes to loss of connection, but among the most prevalent is lack of transportation or means to acquire transportation.
Ride-SHARE is intended to bridge those gaps and break down transportation barriers, including purchasing bus passes and bikes, funding minor car repairs, and providing taxi vouchers to help people get to work, school or vital appointments. Additionally, donations will be used to help connect children to their community through scheduled field trips to local destinations with educational and developmental supports. We can help uplift these individuals and families if we, as a community, do whatever it takes.
"I am very thankful and grateful for all and everything that the Center and all of the staff has done for my very special and very much-loved dog, 38. When 38 and I first got to the here, she was and still is the very first dog to start living here at the Center. 38 was given her own kennel and dog house. But because the Center and staff are so understanding and they love 38, she has not had to sleep in that cold kennel, except for the first three nights. 38 is treated like a person by the Center staff and actually really loved by a couple. 38 Special and I would like to say 'Bark-Bark' and thank you very much Center and staff for helping me with my daughter-dog. You are the best. 38 said so."

- Gary S