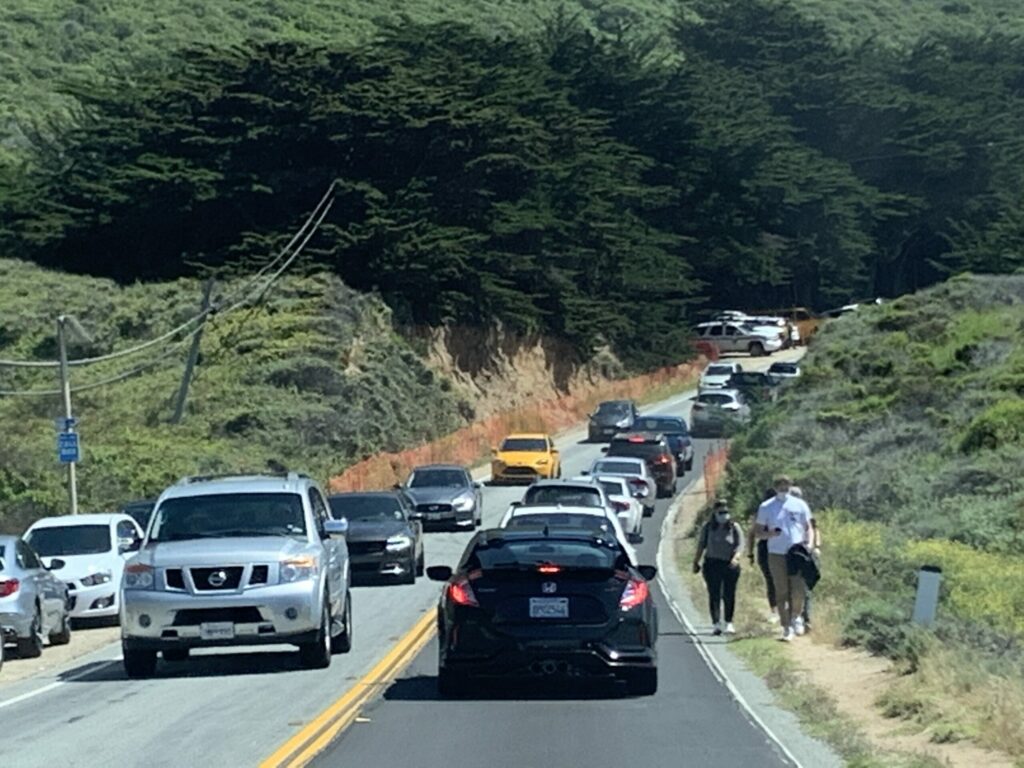 Mission
A community-based phased approach to improve public safety and protect natural resources while optimizing access and visitor experience to Highway 1 parklands, Carmel to Big Sur.
The Big Idea
Create SAFER off-highway solutions for parking
+Develop distributed parking near the Crossroads Shopping Center and at the Rancho Cañada unit of Palo Corona Regional Park.+Designate these parking areas for shuttles to allow easy access to parklands.
+Restrict parking on the west side of Highway 1 near Point Lobos Reserve, once alternative parking is available.

Create GREENER solutions for transportation
+Develop a shuttle service between parking and key destinations.
+Initial shuttle stops: Marathon Flats, Rancho Cañada, and Point Lobos Reserve with hopes to expand services southward.

Create EASIER parklands access for ALL
+Improve equitable access by implementing incentive programs to ensure everyone can access parklands.
+Spread out the crowds through a day-use reservation system.
+Promote weekday visits and under-utilized or newly opened parklands--reducing the numbers on weekends and holidays.

Your support will help to create solutions that have been proven successful in other iconic areas such as Zion National Park.
Since I live in the area and drive the Highway 1 corridor —I frequently see traffic jams, illegal U-turns, and people walking on the highway for long distances. ParkIT! was created to address these concerns. In 2018, nearly thirty initial listening sessions were conducted with the community--led by Ernest Chung- and a solution and steering committee were developed. In addition to providing steering committee representatives, plus financial or in-kind contributions, the following entities also provide connections and expertise in producing technical planning documents and fundraising proposals: Big Sur Land Trust, Point Lobos Foundation, Big Sur Marathon Foundation, Monterey Peninsula Regional Park District, and California State Parks. We hope you'll join us! With the Carmel Area State Parks General Plan approved in 2021, the time to act is now.

- Steve Dennis