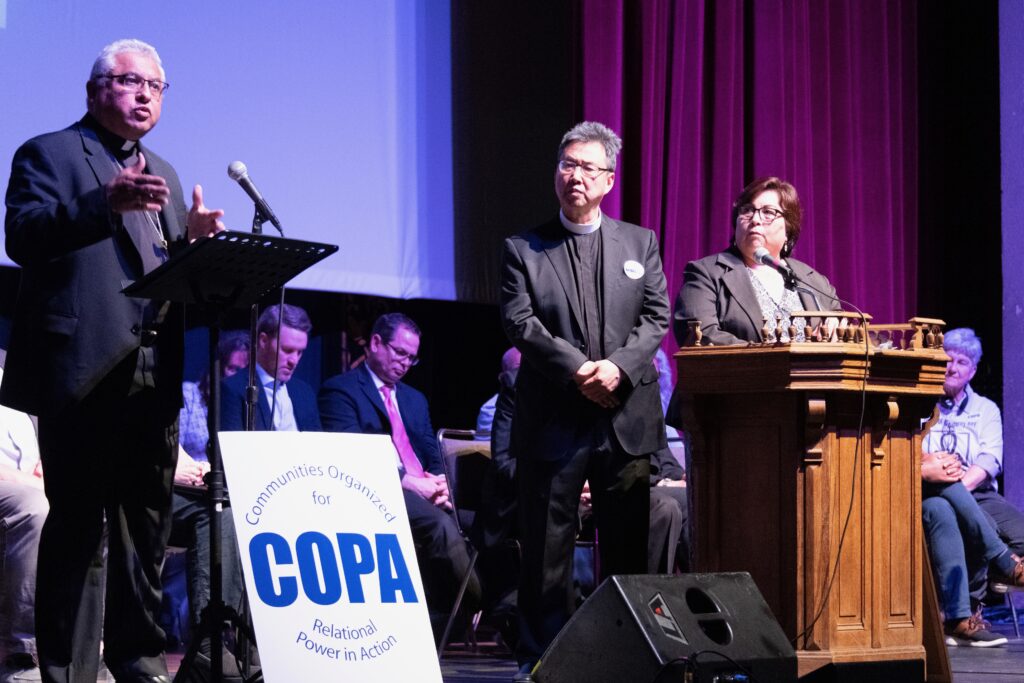 Mission
COPA's mission is to build leadership capacity in local institutions, enabling them to collaborate to solve community problems and to revive and reinvigorate civic culture.

COPA is a non-partisan, broad-based organization of almost thirty religious congregations, labor unions, schools, and nonprots. We organize across institutions to bring together a diverse cross- section of the region around mutual interests to achieve change for the common good.
The Big Idea
A healthy democracy depends upon vibrant, community-based institutions and leadership across diverse groups of people. COPA develops and nurtures community leaders within local institutions to identify problems facing their neighborhoods. COPA then builds communal power to take effective action on the issues and bring about measurable and lasting change.

We start by sharing our stories, building relationships, and developing trust. Most COPA meetings are bilingual. The issues we take on evolve from our stories and experiences. We then work together to address the economic, social, political, and cultural pressures on our families and neighborhoods.
My name is Maricela Acevedo from the church of San Juan Bautista in King City, and Mujeres En Acción. My work has been in the fields for 13 years. Two years ago I was given the opportunity to work as a Community Health Worker for Mujeres en Acción through the VIDA program, which COPA helped to create in 2020. This has completely transformed my life. I learned to use email, a tablet, and a computer. I learned to know the needs of the community, to interact and function in it, and how to support it. I learned how to make my church a leader with COPA, and how to support our priest in a three-day retreat where around 200 women attended.

- Maricela Acevedo