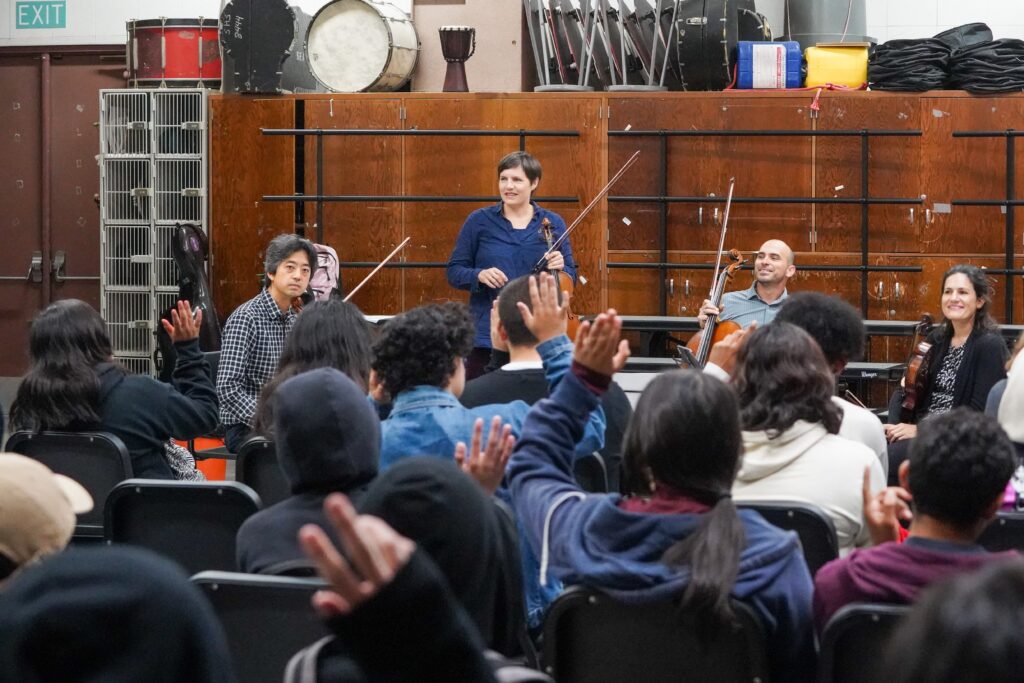 Mission
Through our remarkable 57 years, Chamber Music Monterey Bay's mission remains steadfast: to enrich the cultural life of the community by providing high quality chamber music through a world-class concert series and community education programs. CMMB is committed to preserve the tradition of classical chamber music performance and to explore creatively the evolution of the art form.

Each year's five concert season features exciting master works and new compositions. Our educational efforts include talks about chamber music's history and contemporary compositions, its instruments, and composers. Our Visiting Artist Outreach/VAO programs that we offer in schools, community settings, music education organizations, and senior living facilities. CMMB provides no cost and discounted tickets for students, low-income individuals, seniors, members of the military, veterans, and people with disabilities.

Our programs are lively and accessible to people of all ages and backgrounds. Children (grades 3-12) attend performances for free at Sunset Center and sit in the first 3 rows for an "up-front" personal experience in our Kids Up Front & Free /KUF&F initiative.

Our VAO program along with KUF&F "fill the gaps" in music education in our schools, where visiting ensembles perform music programs. These ensembles also engage with aspiring youth musicians to enhance their performance techniques, such as students studying with Youth Music Monterey County/YMM and YOSAL.

By expanding outreach via complimentary tickets, our VAO events, KUF&F, result in a more ethnically and socio-economically diverse audience. Our vision is to provide unique performances by ensembles from around the world for everyone's benefit and enjoyment.
The Big Idea
Your support will help bring chamber music to the community! For the 2024 concert season, CMMB has scheduled 4 of the five ensembles to offer 14 Visiting Artist Outreach (VAO) interactive educational and performance events at schools, community centers and facilities serving seniors. These interactive events will allow participants to experience classical and contemporary chamber music, to learn about its history, and composers, and to hear the music "close to home". We will also offer transportation and complimentary tickets to children and adults from more remote areas of north and south county to attend concerts at Sunset Center.

Our Kids Up Front & Free (KUF&F) program, along with our community outreach efforts offer those who may never have attended a chamber music performance, or heard a concert at Sunset Center, to experience the artistry of the ensembles and the joy of chamber music.
I really enjoyed the chamber music concert on November 12, 2022! (performance of "Elegy") I've been to several "Kids Up Front & Free" concerts (at Sunset Center) and the front seats let me clearly see professionals playing and inspire me to work harder on my own cello playing. Thank you for giving us this wonderful chance to see professionals up close!"

- Fuyu Meyer