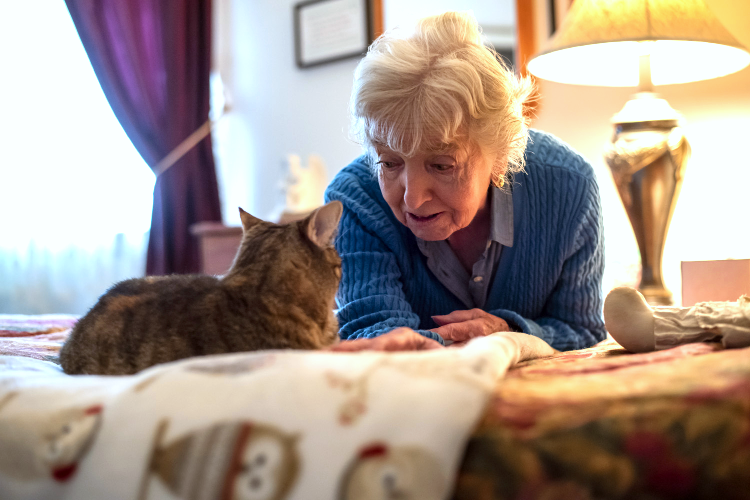 Mission
Golden Oldies Cat Rescue re-homes cats 6 and older from Monterey County whose guardians can no longer care for them or who are at risk in shelters. We place these cats, who have no other options of a safe place to go, into temporary foster care. We then find them permanent loving homes, enriching the lives of both the cats and their new families.
The Big Idea
Older cats risk euthanasia when they lose their homes; older humans can become lonely and depressed as they age. Our senior cats, who desperately need loving, forever homes, provide affection, company, entertainment, and a sense of responsibility and purpose for seniors. Their calmer demeanor makes them perfect matches for senior guardians.
Our Big Idea is to help both by clearing the way for older adults to adopt a Golden Oldies Cat.
MCGives! donations will allow Golden Oldies to universally waive adoption fees for anyone 65/+ who adopts a cat 12/+ from us. And since the cost of veterinary care can be a major impediment to adoption for seniors, we will also cover costs associated with wellness exams, diagnostics, and emergency care.
Having a cat companion can make a person feel needed and connected. And for an older unhomed cat, finding a loving guardian can literally save its life.
Fuzz Button (formerly named Splotches) came to me in June 2021 and I fostered her. She had quite an adventure before I adopted her a month later – getting out and over the catio fence. I did not know who was more scared, her or me. Thankfully, she was found nearby and enticed into a trap using tuna fish. She is so fuzzy and cute as a button. Her favorite spot to sleep is tucked under my arm! Just feeling Fuzz Button tucked under my arm and purring helps me sleep soundly. Purr-haps I even purr in my sleep! She is a senior cat who shares her home with her senior mom in a senior living community! What a purr-fect life!

- Anne Clark