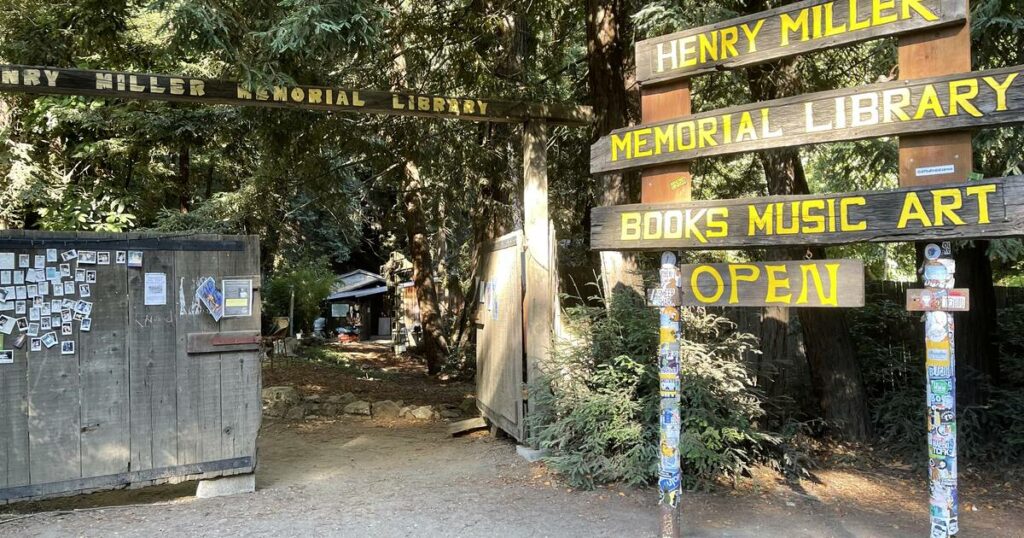 Mission
The Henry Miller Memorial Library, Inc. is a public benefit, non-profit 501(c)(3) organization championing the literary, artistic and cultural contributions of the late writer, artist, and Big Sur resident Henry Miller. The Library also serves as a cultural resource center, functioning as a public gallery/performance/workshop space for artists, writers, musicians and students. In addition, the Library supports education in the arts and the local environment. Finally, the Library serves as a social center for the community.
The Big Idea
Located steps from the majestic Pacific, the Henry Miller Memorial Library is an oasis nestled in the redwoods "where nothing happens." Every day, visitors from all over the world come to the Library to unplug, read, and maybe, if they're lucky, hang out with Jack the cat. There's no other place in the world like it.

But "nothing," of course, is a relative term.

This Library is also a vibrant community resource, offering community events like the Big Sur Fashion Show and Big SuRCuS, concerts, open mics, movie screenings, and author talks. We're also a one-stop shop for all things related to Big Sur's rich cultural and natural history, and we're expanding our successful Big Sur Podcast, which provides a fascinating look at the folks that call this place home.

It's been 41 years (!) since our founder, Emil White, opened the Library's doors to honor his friend Henry, and in many ways we feel as if we're just getting warmed up. Your support makes it all possible, and we're glad you'll be along with us for the ride!
"Big Sur is awash with the majesty of Nature, and one might think that living here, within all this, would be more than enough for any soul to thrive. But, being a human, I thrive too, by joining with others of my kind at the absolutely unique seat of culture that is the Henry Miller Memorial Library! Sometimes it is to peruse the bookstore full of tomes for widening one's awareness of the intricacies of this life. Sometimes within that very bookshop we gather for an intimate concert. Sometimes the performance is grander and we gather on the lawn in front of the stage. And sometimes we go to the Library just to sit, read, and absorb the history and the calm. I rely upon the HMML for broadening the spectrum of my life here in Big Sur. It is indispensable to me."

- Dan Reznick