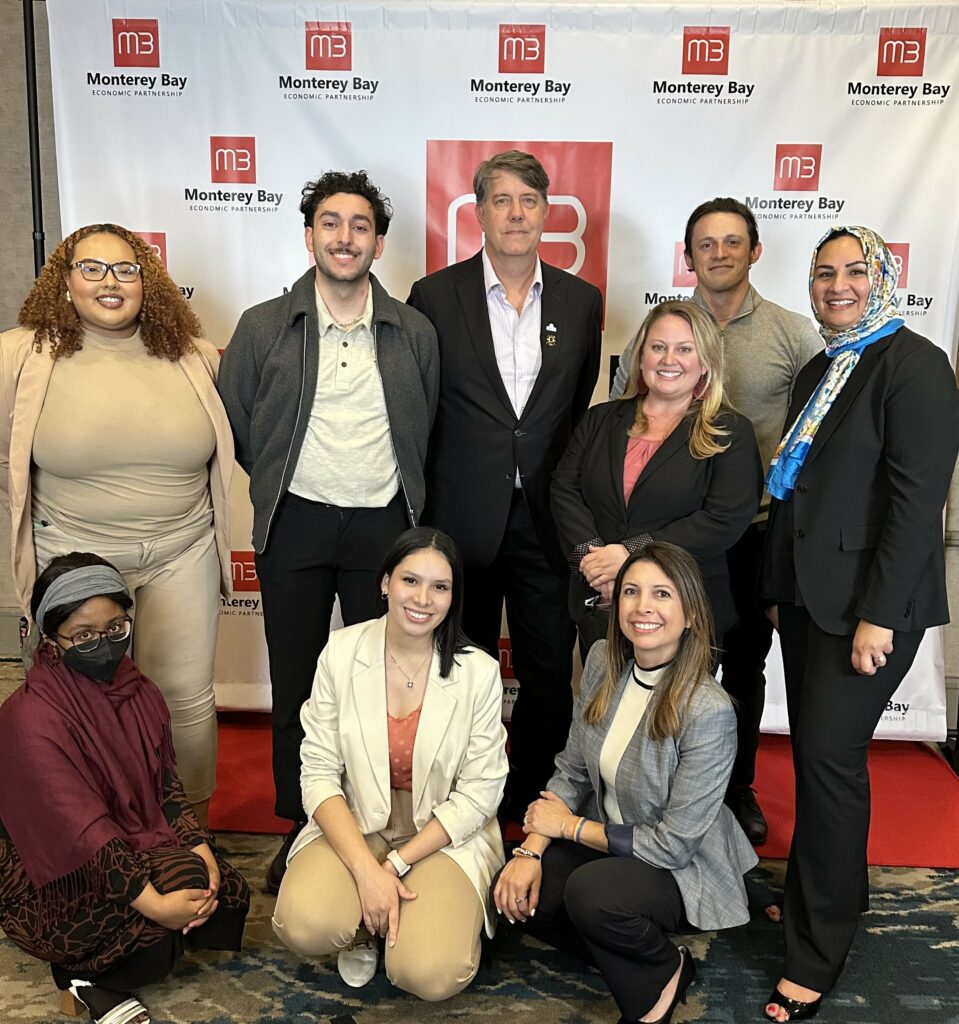 Mission
Monterey Bay Economic Partnership (MBEP) is a nonprofit organization founded in 2015 with a clear and unwavering mission: to improve the economic health and quality of life in the tri-county region of Monterey, San Benito, and Santa Cruz. As a regional convener, MBEP serves as a catalyst for progress, bringing together diverse stakeholders from public, private, and civic entities to address the pressing challenges and opportunities facing the community.

At the heart of MBEP's mission lies a commitment to champion regional leadership and foster a strategic cross-sector network for the future of the Monterey Bay region. This strategic approach involves a comprehensive focus on key areas, including broadband, housing, and inclusive economic development plans.

In the realm of broadband and digital equity MBEP has worked tirelessly to bridge the digital divide in the region. In fact, MBEP has strategically partnered with the Central Coast Broadband Consortium and the South Salinas Valley Broadband Authority to work towards addressing disparity between rural and underserved areas. MBEP has also supported ISPs in expanding broadband access, identified opportunities for efficient infrastructure deployment, and advocated for high-speed internet projects. MBEP's efforts have improved connectivity, enabling access to critical services, education, and economic opportunities.


In the realm of housing, MBEP has worked diligently to meet the needs of the community. Housing represents a critical challenge in the tri-county region, with a severe lack of affordable housing hindering the well-being of individuals and families. MBEP recognizes the urgent need to address this issue and has, in response, launched its housing initiative; which has resulted in the construction of 500 new affordable homes through the Monterey Bay Housing Trust. MBEP has also implemented policies and practices to enhance housing affordability, as evidenced by its Housing White Paper and ADU White Paper. And MBEP's Farmworker Housing Action Plan has provided over 2,200 new beds for agricultural workers.

And in order to support economic and workforce development in the region, MBEP works on efforts to retain and recruit businesses while supporting workforce initiatives through apprenticeship programs in advanced manufacturing and childcare providers in partnership with industry, local community colleges and community based organizations. MBEP also convenes two regional collaboratives working to create inclusive economic resilience plans that are inclusive of historically disinvested BIPOC communities across the 3 counties.


Throughout its journey, MBEP has remained resilient and adaptive, continuously evolving its approach to maximize its impact on the community. In recent years, MBEP has shifted its focus to emphasize advocacy, collaboration, and strategic partnerships as means to address the changing needs of the community effectively.
MBEP's mission to improve the economic health and quality of life in the tri-county region reflects a deep commitment to the well-being of its residents. By championing regional leadership, fostering a cross-sector network, addressing housing affordability, bridging the digital divide, and promoting economic and workforce development, MBEP continues to make significant strides in creating a more inclusive, vibrant, and resilient community for the benefit of all. With a clear mission and vision for the future, MBEP remains dedicated to driving positive change and enhancing the lives of those it serves.
The Big Idea
Monterey Bay Economic Partnership (MBEP) embodies an exemplar of regional leadership, steadfastly committed to propelling transformative change within the tri-county area of Monterey, San Benito, and Santa Cruz. With unwavering resolve, MBEP tackles multifaceted challenges to elevate economic health and nurture the well-being of our vibrant community. Through its strategic cross-sector network, MBEP pioneers innovative solutions that transcend conventional boundaries, addressing the pressing issues of housing, broadband access, and economic development. Uniting diverse stakeholders, MBEP propels the construction of affordable homes, bridging the digital divide, and fostering equitable prosperity. MBEP's dynamic approach epitomizes advocacy, collaboration, and co-creation, envisioning a future where the resonant symphony of inclusive economic growth reverberates across the picturesque landscapes of the Monterey Bay region.
"MBEP's dedication to inclusive economic development has and will continue to impact on our community for years to come. As a resident from an underserved area, I understand the limited opportunities for personal growth and advancement in our area. But MBEP's initiatives are making a significant difference. Their commitment to empowering communities through investment plans and significant strategic collaborations will enable people to gain access to quality education, training programs, employment, and housing. MBEP changes lives and makes our community a better place to live."

- Dirrick Williams