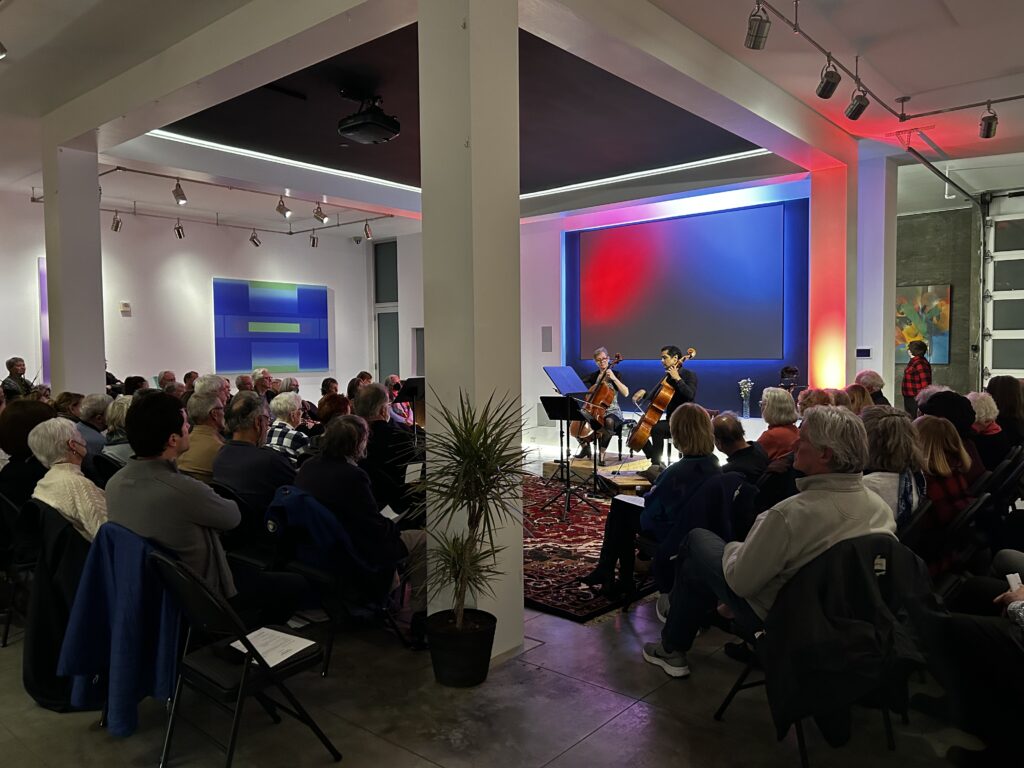 Mission
Musikiwest's mission is to harness the collaborative power of chamber music to engender empathic awareness, promote conflict resolution and build peaceable communities, so that these lessons may extend to youth, their peers and family. The musicians demonstrate how the careful process of concert preparation reveals how necessary conflict resolution and positive collaboration are, and how these are universal and essential for any community—to create a harmonious community and harmonious performances.

Musikiwest's home venue is SandBox, amplifying the vibrant arts community of Sand City. The urban location, disarming intimacy and contemporary design invites creatives to share an array of arts, cultural and community events. These events are the backbone of building peaceable communities, further enhancing the richness of the diversity within the community.
The Big Idea
SandBox is a unique and versatile venue for sharing music, art, dance, film, theater, spoken word and lecture/workshops. The contemporary design and urban environment invite thinking "outside of the box". Seating capacity is 104, a casual refreshment area and welcoming atmosphere invite conversation. Since August 2021, SandBox has offered over 68 events, ranging from classical music to jazz, folk, dance, film, and theater. The venue offers organizations opportunities to host seminars, performances, fundraising and workshops at affordable prices. In 2022, SandBox initiated "Bach's Lunch" free noontime concerts. There were 4 events, each attended by 40-65 individuals.

Operating costs to sustain Musikiwest in SandBox include artists' fees, rent, utilities, bookkeeping, media systems, piano tuning, development and marketing costs. Musikiwest requests operating support to continue cultivating community through the SandBox's events. We provide free admission to 16/under, military and student discounts and complimentary tickets for low-income individuals.
I was at your amazing space last night for the "Music Heals" concert and can't remember last when I was so thrilled by a musical performance, and I go to a lot of them. First, the space your constructed has great acoustics, is designed beautifully, and encourages community interaction. Second, to hear great musicians close-up, see how they interact, experience how collegial they are, how much they enjoy making music together, how years of practice and study and focus is presented as a gift, and gave me, at least, a new reason for living! It was an evening of total magic. You have organized the perfect space and invited the most talented to join you. I am enthusiastic about your cause! Thank-you for what you have done for this community.

- Susan Meister