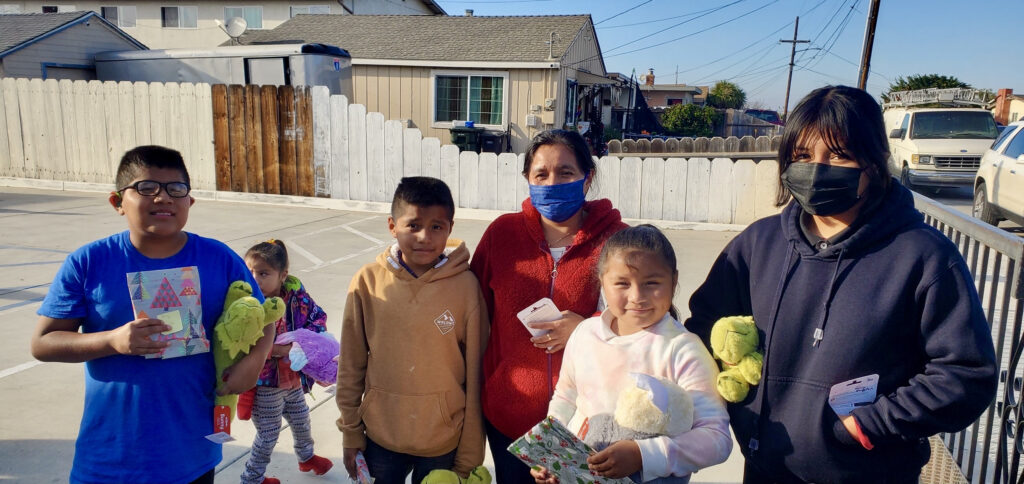 Mission
Nancy's Project exists to reduce food insecurity and provide access to essential household goods for Monterey County farm labor families who grow the fresh food others enjoy but which they can seldom afford. Nancy's Project provides food to 2,000 people a week. Nearly three quarters of them are children.

In an effort to enrich the children's lives, Nancy's Project organizes donation drives for diapers, back to school clothing and supplies, holiday gifts and other necessities. Our volunteers collect surplus food from partner grocers five days a week for distribution in farm communities throughout the Salinas Valley. On delivery days, donated clothing, shoes, toys and household basics ride along with the filled food containers in the Nancy's Project's van.

Nancy's Project's goal is to increase opportunity and well-being for the workers crucial to Monterey County's robust agriculture economy and for their families as well.
The Big Idea
"The single most important thing parents can do is make sure their children have enough protein to ensure healthy minds and bodies," says Betty Kasson, Nancy's Project's Chair and retired Stanford Pediatric Nurse Practitioner.

Farmworker families living on the edge receive food from the Monterey County Food Bank, the agricultural community, and depending on the family's documentation, CalFresh, but not enough healthy, lean protein to meet their needs. Nancy's Project purchases rice and beans to provide a complete and culturally-aligned protein. However, eggs, dairy, poultry, meat and fish are in short supply.

We understand the impact of providing lean protein to families. Our grocery partner's refrigerator failed during the winter storms. The meat, chicken and fish were still viable so we collected everything and delivered it to our largest food distribution site. Months later we are still hearing about how ecstatic our families were, receiving so much high-quality protein.
Linda A., age 60, is a roadside flower vendor. I'm so thankful I wish I could jump but I'm too heavy," said Linda when she ran into Nancy's Project Board Member Orlando Rivas. Linda was waiting in line for food before Thanksgiving and was worried there wouldn't be enough. It was a particularly good day; with turkey and milk. Nancy's Project's Friday food distribution is something she relies on, like a paycheck. Linda said, "I can't pay for the food but I can help." She took on the task of babysitting for others in line. She remembers helping a single mom with six children, ages 3 to 13, get to our school backpack distribution early with all the kids. "The kids dropped to the sidewalk and immediately opened the bags despite Mom's instructions to wait. They were so excited to share their treasures" That is something to be thankful for.

- Orlando Rivas