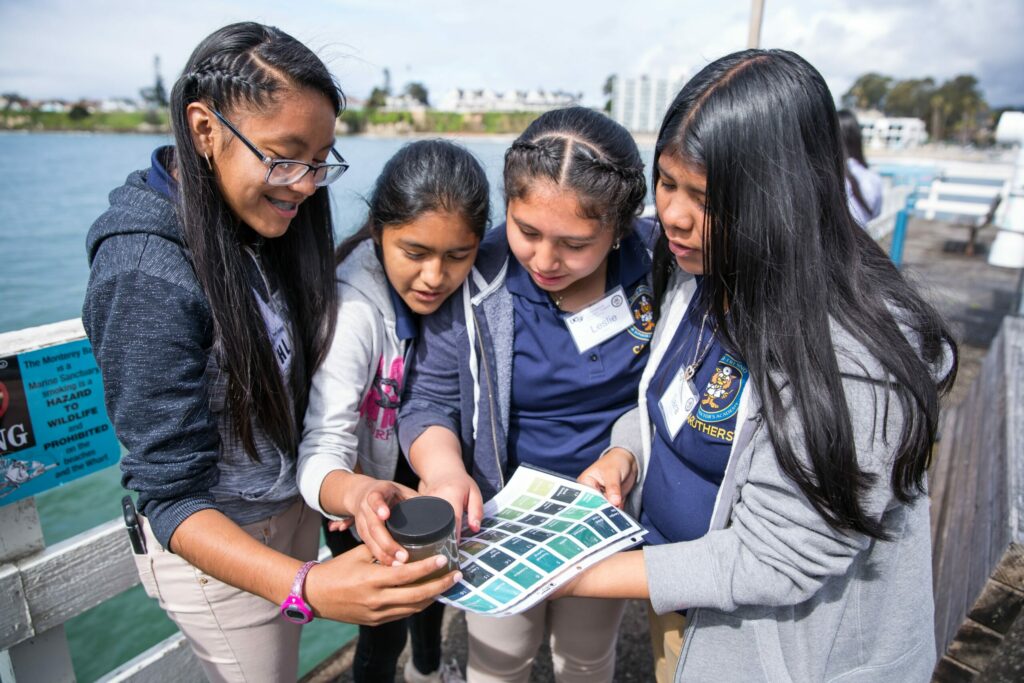 Mission
Our mission is to leave a thriving Monterey Bay National Marine Sanctuary to future generations by protecting wildlife and biodiversity, raising sanctuary visibility and awareness, and inspiring the public to be its stewards
The Big Idea
Each "Experience Monterey Bay Sanctuary" program will consist of:

1. Pre-field trip classroom visit: Sanctuary Exploration Center (SEC) staff will visit the classroom and provide an introductory lesson about the sanctuary with interactive watershed demonstrations.

2. Field trip to the SEC: Students will first participate in a guided exploration of the SEC by trained educators, staff, and volunteers. Following the guided exploration, students will be introduced to the importance of monitoring oceanographic conditions and plankton. Along with staff and teachers, the students will walk to Main Beach and the Santa Cruz Wharf to measure specific oceanographic data.

3. Post-field trip classroom visit: SEC education staff will facilitate an inquiry-based discussion on the data collected and identify potential environmental impacts.

Our goal is that teachers integrate this program into their year-round classroom curriculum.
"This incredible field trip enabled our students to learn about Monterey Bay Sanctuary and experience the beach habitat first hand. Opportunities to experience the marine environment are surprisingly rare for our students, even though they live near the coast. Although our school district fundamentally believes in the educational benefits of field trips, there is zero funding for transportation costs and fund raising is limited since our school serves economically disadvantaged families. Sadly without transportation funding, we are unable to go on field trips to the Sanctuary Exploration Center, which has a valuable interactive educational program." Ms. Sydnie Moore Education Specialist T.S. MacQuiddy Elementary School Pajaro Valley Unified School District Watsonville, CA

- Sydnie Moore