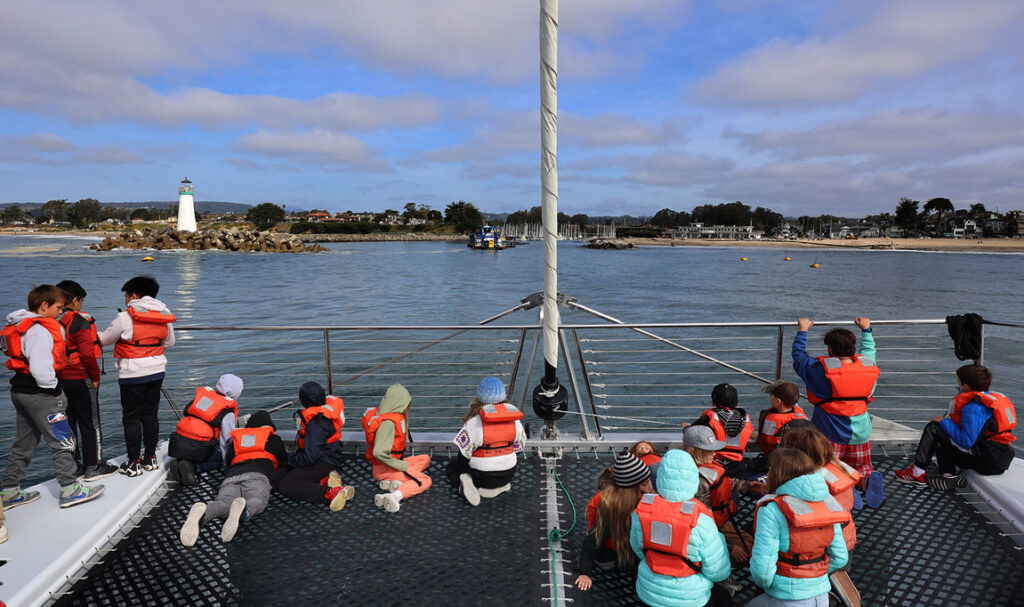 Mission
O'Neill Sea Odyssey (OSO) was founded in 1996 by wetsuit innovator and philanthropist Jack O'Neill. Jack's passion was to create opportunities for everyone to connect with and understand the treasure of our coasts and oceans. The mission of OSO is to provide a hands-on educational experience that encourages the protection and preservation of our living sea and communities. For 25 years, the OSO program has served over 117,000 youth from Santa Cruz, Monterey, and Santa Clara Counties with exceptional marine science programming.

The O'Neill Sea Odyssey program consists of an ocean-based science and environmental excursion, curriculum used in the school classroom, and a student action project. Ocean voyages are conducted on board a 65-foot catamaran sailing Monterey Bay and subsequent lessons occur at the Education Center at the Santa Cruz Harbor. O'Neill Sea Odyssey is a free program for all participants. The students must earn their trip by planning and implementing a student-led conservation action project. These action projects are critical to the integration of the lessons taught and help to create an important foundation for the continuation of future conservation actions at school at home.
The Big Idea
For 25 years, the O'Neill Sea Odyssey has provided youth with marine education at a critical point in their educational and personal development. Time outdoors and in the field improve a student's mental and physical health, academic performance and strengthens relationships among peers and the environment. Additionally, our oceans play a fundamental role in mitigating climate change by serving as a major source of carbon. Our big idea is to raise funds to provide funding for three Southern Monterey County schools to participate in the Sea Odyssey program. The Sea Odyssey mimics the learning cycle (Engage, Explore, Explain, Elaborate and Evaluate) delivering a bilingual curriculum onboard a 65-foot catamaran on the waters of the Monterey Bay. Students earn this free field experience by implementing a Community Service project; thus integrating the learning that occurred throughout the experience and creating the next generation of environmental and climate stewards.
Thank you to everyone involved with the O'Neill Sea Odyssey program, especially the founder of the program, Jack O'Neill. For many of my students, this was their first time on a boat. All of the crew were friendly and gave all of us an incredible experience that we will never forget. 4th Grade Teacher from Santa Lucia Elementary School in King City

- Kevin Roberts