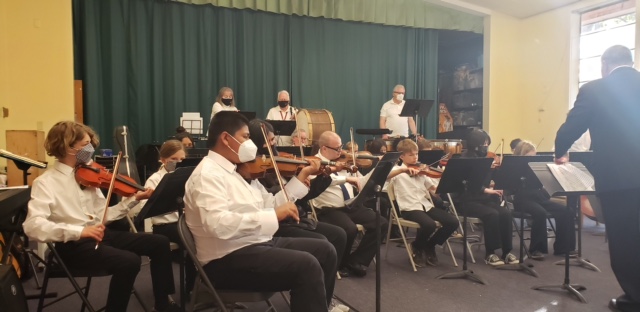 Mission
"Orchestra in the Schools works to inspire success for all children through music." Our vision is to cultivate the joy of musical expression. We are creating opportunities for young musicians to build confidence. OITS believes the study of music guides young students to become responsible adults who appreciate artistic beauty in all aspects of life. Participating in and enjoying organized activity that requires attention, cooperation, and dedication leads to personal success and self-confidence. Our goal is to create healthy citizens for our future communities.
The Big Idea
Orchestra in the Schools provides quality musical instruction for beginning and intermediate musicians.
Many are provided with the free use of an instrument during the year.
Studies have shown that learning music helps to close the educational gap
between students from different economic backgrounds. Orchestra in the Schools
wants quality music education to be available to all interested parents and students. We have
always offered tuition aid and have worked to keep our tuition low. Each student in
our program generates a $1500 fundraising obligation for the organization. We never
want to be in the position of having to turn a child away due to our lack of funding.
We don't want to discourage anyone from learning a musical instrument and improving their lives.
OITS is a great program for the children of Monterey County! They provide children with a unique opportunity to experience—and to fall in love with—the incredible world of music and performance. OITS is also a powerful socialization venue where every child interacts with different instructors as well as with children of different ages, background, and musical levels. The experience has an impact on the musical education the children receive, but it also has the virtue of teaching them the important values of cultural competency and discipline. In my opinion, OITS is a great—perhaps the best—alternative to complete any child's primary education in Monterey County. OITS is an organization that fosters the children's artistic interests and provides them with a unique opportunity to develop a sense of belonging and responsibility vis-a ̀-vis the collective efforts of an orchestra

- Luis Bergolla