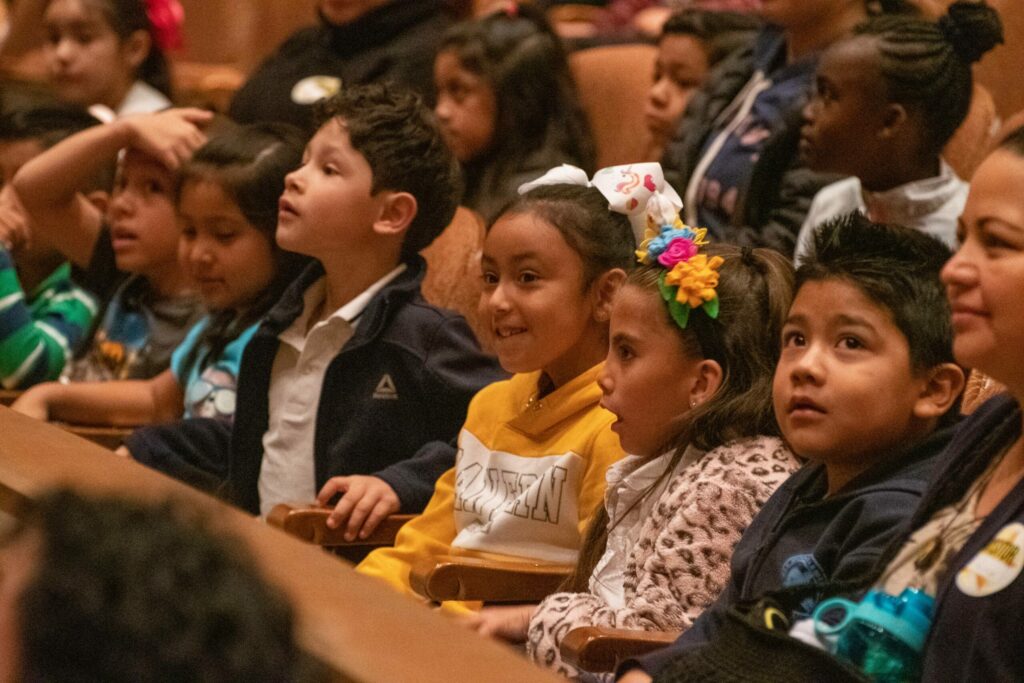 Mission
Sunset Cultural Center's mission is to serve as a multi-purpose gathering place that enriches, educates and entertains by presenting artistic and education programs, and by hosting public and private events. Our vision is to be the leading provider of the highest quality performing arts and cultural experiences and opportunities that serve Central Coast residents, visitors, cultural and educational institutions, and artists.
The Big Idea
Classroom Connections engages students through a series of in-classroom workshops featuring Sunset Presents artists. This culminates in a matinee at Sunset Center – often the student's first – to witness the professional artists performing on-stage. Classroom Connections gives students an intimate, hands-on experience of the connection between process and product. Our goal is to empower children by breaking down the process of creating an artistic product step-by-step with the artists themselves. Our message is that success is not mysterious or unattainable. On the contrary, everyone can achieve their goals by developing the skills and determination to succeed - in baseball, business, or ballet. Our artists are as diverse as our students. We have modern dance, jazz, magic and more. Participating students range from kindergarten to high school and special needs to at-risk. Sunset Cultural Center believes in the potential of children; our goal is to help them believe in themselves.
"This year, Ballet Hispanico graced us with their presence, and our students met the performers and learned some of the choreography within the performance. Students were able to truly make the connection between a new experience (some of our students have never left our small, rural town) and how it is all put together, and the performers were so gracious and willing to answer our questions about themselves and their work. Some of our students even expressed further interest in dance and drama; this is a true testament to the power of programs like Classroom Connections and the influence of the Arts in a young person's life."

- Eusebio Martinez, Jr., PhD.